Inky Deals is one of the leading deals websites in the design community – it's the place to go if you want to buy premium resources at unbeatable prices.
They're the only ones who offer a 200% money back guarantee on every product. This means that if you're not happy with it, you get your money back and you also get to keep the product.
Inky Deals came up with a very cool Natural Skin Photoshop Action that will be incredibly useful for photographers or for anyone that uses photo-retouching actions.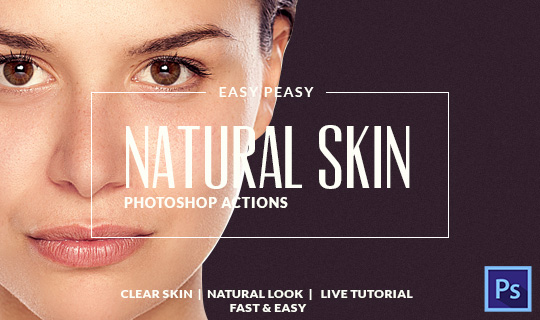 This action removes skin imperfections with a simple click, cleans blemishes, enhances details and sharpens the image. And it does all this while keeping the layer count to a minimum for your comfort.
It also comes with a live tutorial, making it incredibly easy to use. All you have to do is just double-click on the source file and the action will guide you through all the steps.

P.S. If you need more actions like these, you can simply get the entire Easy Peasy Bundle worth $656 at a fraction of the price – for only $49!
What's in the bundle:
• 41 Brand-New Easy Peasy Photoshop Actions & Bonus worth $110
• 71 Easy Peasy Photoshop Actions worth $190
• 37 Watercolor Styles + 40 Watercolor Brushes worth $90
• Easy Peasy Texture Overlays: 147 One-Click Grunges worth $147
• 150 Easy Peasy Text Styles for Illustrator worth $89
So what are you waiting for? Get this deal now!